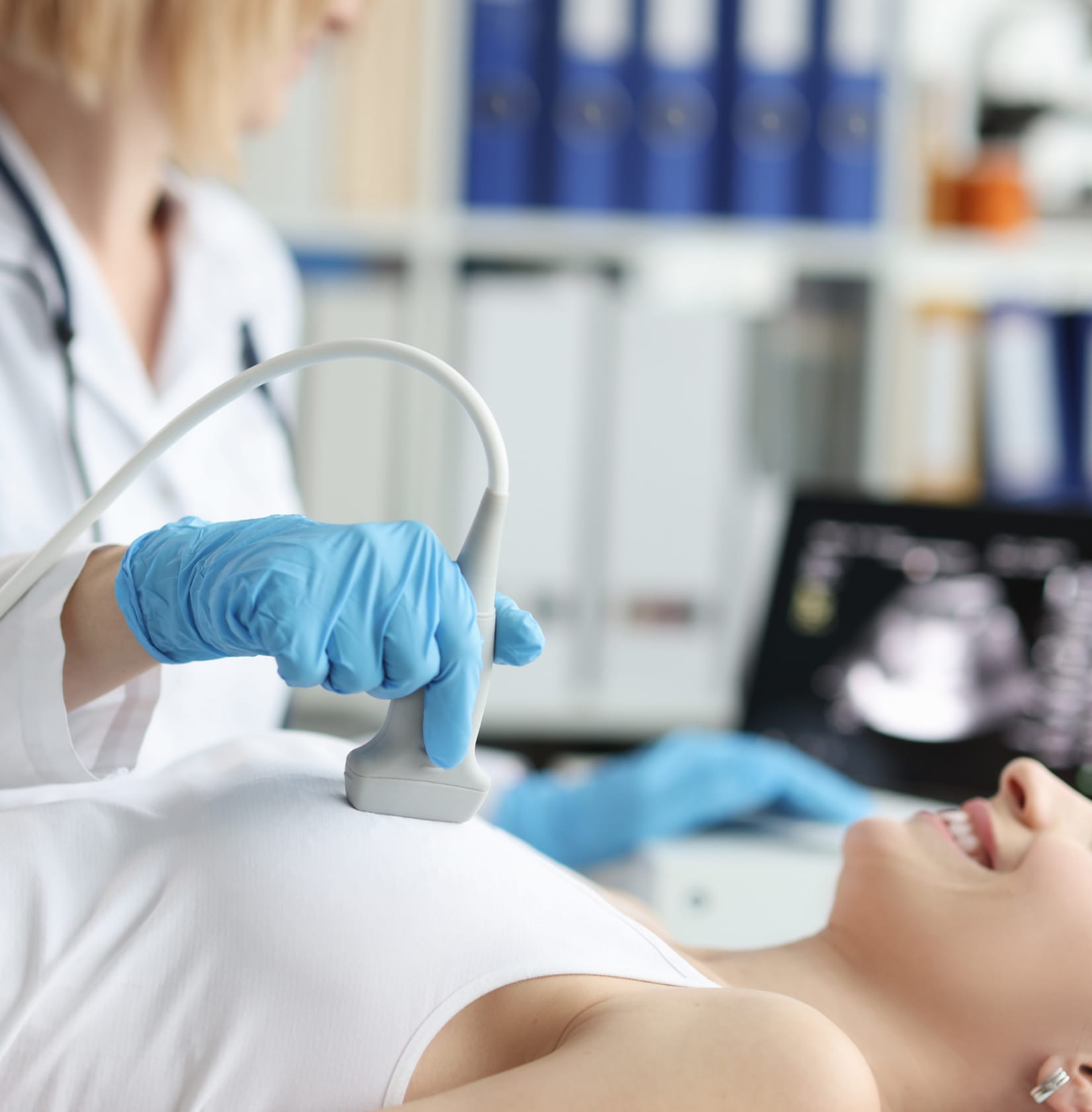 An ultrasound exam can be used in conjunction with a mammogram to help further identify breast cancer in patients with dense breasts. An ultrasound is often ordered when an abnormality is detected on a mammogram, or they may be ordered to provide a more thorough, comprehensive look.
This article from The National Center for Biotechnology Information stated:
In this study, the addition of screening ultrasound in women with mammographically normal but dense breasts continued to improve breast cancer detection by finding an additional 2.3 cancers per 1000 women screened.
What is the difference between mammogram screening and breast ultrasound screening?
A mammogram takes an image of the breast with a low dose of radiation. During the screening process, the breast tissue is compressed between two plates, allowing the best image to be taken.
During breast ultrasound screening, no radiation, plates, or breast flattening is involved. Instead, high-frequency sound waves are sent through a wand called a transducer, and are then converted into an image.
Breast ultrasound screening can find additional cancers in women with dense breast
Several studies have investigated the use of breast ultrasound screening in women with dense breasts. According to a 2014 study:
…in a multi-center observational study of 15,318 women with heterogeneously dense or extremely dense breast tissue demonstrated an increased detection of 1.9 cancers per 1000 screening examinations with the use of supplemental ABUS regardless of further risk characterization. Moreover, of the additional cancers detected by ABUS, 93.3% were invasive and node-negative cancers, suggesting this technology detects clinically significant cancers.
The National Center for Biotechnology Information summarized their report on The Role of Ultrasound in Screening Dense Breasts, saying:
…women with dense breasts suffer from an increased risk of breast cancer combined with decreased sensitivity of mammography alone. Adding ultrasound screening can increase breast cancer detection rates by 1.9–4.2%, depending on the population.
Breast Cancer Screening with Telemammography USA
TeleMammography USA partners with medical practices and breast surgeons, using state-of-the-art technology to achieve faster, more efficient results. TeleMammography USA operates using a streamlined approach, resulting in dramatically expedited imaging reports.
Our founder, Dr. Kevin Kearney, has been a practicing board-certified Radiologist specializing in breast imaging for nearly twenty years. He served as the Breast Imaging Director for the Cancer Treatment Centers of America in Arizona. Dr. Kearney was the National Director for a large national imaging facility in Phoenix, where he headed the Breast Imaging department and expanded their new multi-state telemammography program.
Dr. Kearney serves as an Assistant Clinical Professor at the Creighton University School of Medicine. He created TeleMammography USA because he is passionate about helping small and medium-sized healthcare facilities, breast surgeons, and OB/GYN clinics identify breast cancer in its earliest stages to save lives.